Custom Skates - Inline
4 products
The Revolution of Custom Skates: Bont's Pioneering Journey
In 1974, an innovative leap from Bont forever changed the skating landscape. This was the year when Bont introduced the world to custom boots, a concept that was not just novel but revolutionary. It began a new era in skate design and comfort, spearheaded by Mr. Inze Bont. His dedication and craftsmanship led him to develop these unique boots, setting a new standard in the skating world.

Interestingly, it took a year of diligent work and refinement before the first pair of Bont custom boots were sold in 1975. This patience and commitment to quality underscored the ethos of Bont, a characteristic that continues to define the company today.

Fast forward to the present, and Bont is a custom skate manufacturing leader. The company proudly produces more custom boots per week than all other custom skate makers combined. This is a testament to the popularity of Bont's products and the exceptional quality and craftsmanship that goes into each pair.

The boot makers are at the heart of Bont's custom boot success. Each custom boot maker at Bont has a minimum of 15 years of experience in the art of boot making, exclusively with Bont. This level of expertise ensures that every custom boot is crafted with unparalleled skill and precision, offering skaters the best in comfort, performance, and style.

From the inception of the custom boot to its current status as a staple in the skating community, Bont's journey is a remarkable tale of innovation, dedication, and excellence.
What is a Custom Speed Skate?
Have you ever wondered what a custom speed skate is? Simply put, it's the pinnacle of personalized skating gear. Here's why.
Tailor-Made for Your Feet
A custom speed skate starts with your unique foot. We take a precise mold of your foot and then build the boot around it like crafting a fine piece of art. This ensures a fit that's just right for you.
Customization at Its Best
With a custom skate, the power to personalize is in your hands. From the color to the padding, boot height, and stiffness, every aspect can be tweaked to your liking. It's like designing your dream skate.
Perfect for All Feet
Whether you have wide, narrow feet or unique foot shapes like large lumps or bunions, custom speed skates are the solution. They provide unmatched comfort and performance for every skater.
Why Choose Custom?
Choosing a custom speed skate means choosing the best. It's not just about the look; it's about the perfect fit, supreme comfort, and optimal performance. When your skates fit like a glove, you skate better.
How Custom Boots Are Made
Ever wondered how custom boots are made? Let's dive into this fascinating process.
Step 1: Taking a Mold of Your Foot
It all starts with your foot. We use various methods like resin-impregnated socks, laser scanning, or plaster bandages. But our unique method, invented by Inze Bont in 1974, involves alginate and plaster. This technique perfectly captures your foot's shape.
Step 2: Sculpting the Mold
Next, we refine the mold. We trim away the fatty tissue areas and shape the Achilles region to ensure a snug, comfortable fit. This step is crucial for that perfect fit.
Step 3: Building the Boot
Now, we build the boot around your foot mold. It's a meticulous process, ensuring every part of the boot conforms to your foot's contours. The foot mold is then carefully broken and removed, leaving a boot shaped just for you.
Step 4: The Finished Boot Comes to You
Finally, the finished boot, crafted to your foot's unique shape, is ready and sent directly to you. It's not just a boot; it's a custom-made masterpiece for your feet.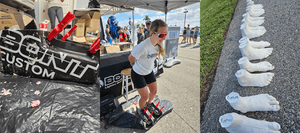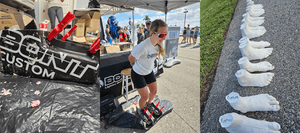 Do I Need Custom Inline Skates?
If you're wondering whether custom inline skates are right for you, let's break it down in simple terms.
Why Custom Skates?
Once you try custom inline skates there's no going back. They fit your foot like a glove, making them incredibly comfortable. It's like they're made just for you because, well, they are!
The Fit Difference
Custom inline skates are designed to fit the unique shape of your foot. This means no more pinches or discomfort. They mold to your feet, offering a level of comfort stock skates can't match.
Performance Upgrade
When your skates fit perfectly, your skating improves. Custom skates provide better support and control, enhancing your performance. It's a noticeable upgrade from regular skates.
Is It Worth It?
If you're considering custom inline skates and can afford them, our answer is a resounding yes! They're an investment in your comfort and skating performance.
LIGHTER. STRONGER. FASTER.
We push the limits of technology to help you perform at your best.